ABOUT KOPPER KUTTER LLC
Kopper Kutter LLC makes conversion kits for cornheads enables harvesting of additional row crops including sorghum, millet, milo, cellulosic material, etc.
"Necessity is the mother of invention."
For Kyle Kopper, Manager of Kopper Family Farms, and Randy Burns, Custom Harvester, the old adage rings true: "Necessity is the mother of invention". With the drop in commodity prices and an increase in milo production, Kyle wanted lower machinery cost and more consistent residue management for his no-till crop rotation of corn, wheat and milo. Meanwhile, Randy was frustrated with the high maintenance cost of their existing row crop headers and the poor performance in lodged milo. At the same time, Alan VanNahmen, Farm Buddy Company needed an improved header for cellulosic ethanol crop harvesting with the Glenvar Bale Direct System. The trio of southwest Kansas agri-businessmen have teamed up to design, build and patent their ARRO® – Alternate Rotary Rowcrop Option which can be retro-fitted to existing corn heads.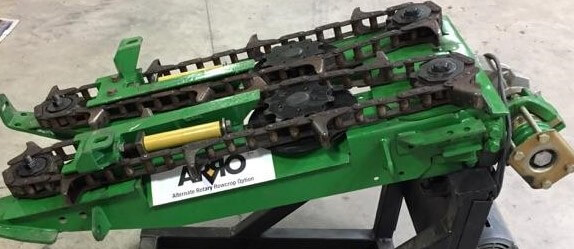 Development Process
During the 2015 sorghum harvest, Kopper Family Farms compared several other milo harvesting heads, but were frustrated with performance short comings and overall cost. They needed the reliability and performance features of their existing corn heads. The next step was to figure out a way to convert a standard corn head to harvest sorghum. After removing the existing stalk rolls the new "Kopper Kutter" team sketched up, fabricated and installed four different prototype cutting systems on multiple row units. After many trials and field test runs, they have achieved a cost effective dual disc cutter design that can retro-fitted onto late model corn heads.
Future Plans
Watch for more applications of the ARRO® head conversion kit on more headers and for more crop applications.
We also request your support for CHIS- Combine Header Interface Standardization as recommended in ASABE Proposal 05-5008.